I wanted to try another recipe and had located a great one online The recipe they gave me looked fantastic, I thought it would be a great treat for my family and got started on getting the ingredients. Here is the down side; I was not able to find everything I was looking for. So I thought that I would roll the ingredients in lasagna noodles since I couldn't find the GF shell noodles. This did not work out the way I had planned. The original recipe is found on
http://celiac-disease.com
and goes as follows: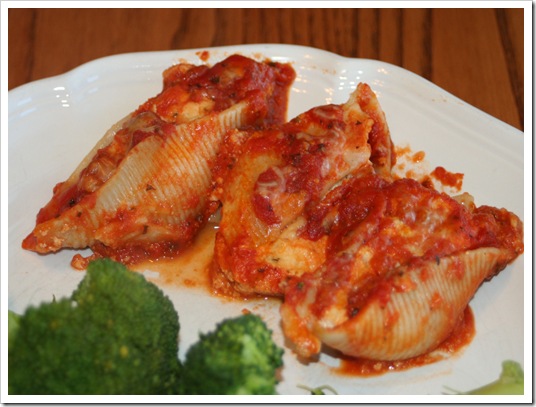 What it is supposed to look like!
Cheesy Stuffed Shells ~ Gluten-Free
1 box Tinkyada Large/Jumbo Shells (box is about 8 oz and has roughly 28+ or – shells)
30 oz. Ricotta Cheese (I used low-fat Meijer brand)
2 eggs, beaten
2 cups shredded mozzarella cheese (I used part-skim)
1/2 cup grated parmesan cheese (split in half)
1/2 tsp. salt
pinch of black pepper
1 tsp basil, dried
1 tsp oregano, dried
1 jar of spaghetti sauce (I used Prego Three Cheese, but like Classico Four Cheese, too)
Fresh Basil, chopped, to sprinkle on top when done baking
Directions:
Cook pasta according to box directions. Note: Tinkyada suggests cutting cooking time by 2 min if you plan on baking.
Combine ricotta cheese, eggs, dried spices, 1/4 cup of parmesan and 1 1/2 cups of the mozzarella cheese. Mix well and set aside.
Heat sauce in pan on stove.
Assembly….Pour sauce into a 9 x 13 Pyrex dish sprayed with Pam; spoon a thin layer of sauce across the bottom. Scoop 1-2 TBSP of cheese mixture into each shell and place in dish. Repeat until finished. Pour remaining sauce over top and top with remaining parmesan & mozzarella.
Bake at 350 for 30 minutes, covered. Remove covers and back for another 5-10 minutes.
Top with freshly cut basil and serve!
Nailed it!!!!
What I ended up having to do is make a cheesy noodle pile. It works like lasagna only it doesn't set up correctly due to me cutting the noodles since I was intending to roll them. I ended up laying the ingredients, and when it was done cooking it fell apart and ended up a giant pile of food. It tasted good, but it was not what I was hoping for. Well I guess every recipe can't work out the way one would hope. This is the last time I try to experiment without having the right ingredients. The good news is that both the Cheesy noodle pile and the Cheese stuffed shells are gluten free and I am sure that the Shells would have been fantastic.